Month four in the life of the future pin-up girl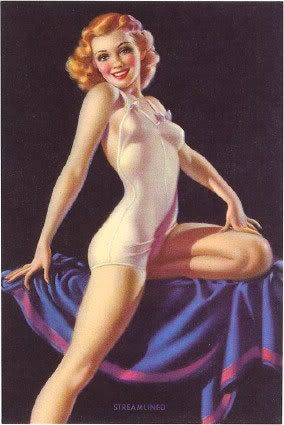 Life at four months post-op is great folks! I feel so much more comfortable with my body. I'm still over 200 lbs, which I had hoped to be under by now, but I think I'm ok with that. Really, I can't remember being this small since I graduated from high school, so how can I be disappointed? Eating is becoming easier and easier (now that I've sworn off eggs..lol). I have a good routine down.. Nectar protein first thing upon waking. Either yogurt or 1/2 a protein bar around 10am if I'm hungry.. often nothing until lunch. Lunch is usually a small soup from my favorite spot,
San Francisco Soup. Co
. Lots of watered down Crystal Light in the early afternoon. Then a cup of hot tea around 3pm or so. I get home around 6pm and start dinner, which is protein of some sort and a cooked veggie.. maybe a few baby greens with a drizzle of dressing. I have to be careful with dressing though - I dump pretty hard on fats. I do ok with butter in moderation and olive oil, but I cannot stomach (literally) mayonnaise or really creamy salad dressing. Just the thought of it makes me want to heave. I find this fascinating, considering pre-op I ate mayo like it was its own food group. I slathered that stuff on EVERYTHING.. I even put it in spaghetti. Eww. Anyway, food is pretty easy to tolerate - which is good because I have to feed my body. I feel really healthy - and I think I look pretty healthy too. Before surgery I was concerned that I might end up looking gaunt and bug-eyed, which I've seen in a few before/after pics on OH. Not cute. But me - I'm finally feeling cute again! All of my favorite clothes fit again and many have been folded up and put in a pile to be donated. I wear skirts and heals to work almost every day. I fix my hair and my makeup and enjoy being a girl again - and people are noticing! Especially my coworkers.. who now ask me what shade of eyeshadow I'm wearing and tell me how much they love my new haircolor. Speaking of haircolor - I'm now a redhead!.. and I'm loving it! I finally found a new stylist and she's so wonderful. Her name is Colleen and she's 3 years post-op.. isn't that too cool!?! She's a gorgeous redhead and just the sweetest person. I love going to see her because she makes me feel so comfortable. She knows exactly what I'm going through and what my concerns are (like the thinning hair thing). So far, I'm thinning some on my crown, but it's still manageable. Going with a lighter color and processing my hair again has helped a lot. So - here are the new pics! I hope you like. I'll try to get Chris to take a full body (clothed..lol) soon.. but in the meantime, I think these shots will give you an idea.

Love to my sassy fatty sisters!