Month eleven in the life of the future pin-up girl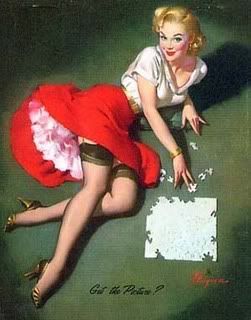 The last piece of the puzzle .. is exercise. And I'm struggling with it. I got totally psyched to start swimming with the Manatees and then two things happened. One - I found that my neck/shoulder injury was worse than I thought. Swimming was causing me so much pain that I could barely type at work. When I originally injured myself, I was off of work for 6 months. Can't have that again. Two - we got some bad news financially. For the last year, Chris and I have been working as the managers of our apartment complex... showing units for rent, dealing with noise complaints, that sort of thing. In exchange, we were paying $400 a month for rent. Unheard of in the Bay Area. It was really helping out while Chris is in school and only working part time. Well - the owners of our building (who we really love) decided to sell the building and the new owner will not require our services. So we're back to $900 a month for rent and struggling. So.. that means that the monthly fees for swimming are no longer in the budget. All of this brought me really down. I was feeling like a failure.. feeling a lot like I have in past when I've announced my intent to start a new diet.. and then failing with it.
I've spent time thinking about it.. working through the suckiness of the whole situation.. and now I need a solution. I do still have my Curves membership. I'm paying for it, forchristsake, might as well use the damn thing. But I know that I will need something more. I NEED to strengthen my core. The weight that I have left to lose is all around my middle (mid-tummy and back), with a little on my upper thighs. I'm still having back pain. I still slouch.. not from lack of self-esteem or anything, but from pain. Straightening my back out HURTS. I'm still taking Valium on occasion for the muscle spasms in my back. As lovely as the occasional Valium chill-out can be, I'd really like to not need them anymore.
And - in addition to all of this, my energy level still has peaks and valleys. I thought that this would have evened out by the time I was nearly a year out. I'm taking B-12 every day now. Maybe I'll need B-12 shots..?? My one year check-up is on September 18 (has it really gone by that fast?!), so Dr. U will be able to look at my bloodwork and see what the story is.
Some good news - my friend Michael's niece Josie had her WLS earlier than I had thought - she's about 2 weeks out now and doing well. Get those liquids in girlie! And - my cousin Stephanie only has 15 lbs left to lose and she'll get her approval from Kaiser - I'm so very excited for her!
If anyone has any advice about the exercise stuff, let me know. I need a serious kick in the ass.